Axels Warrior Jewelry and Armor



NEW

The Black Widow

Solid sterling with red enamel hourglass.


Scorpion King Bracelet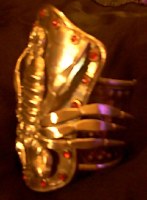 Scorpion measures 3 3/4 inches high.
Bracelet 4 3/8
Solid Sterling Silver. 20 carnelian stones
Garnet eyes.
Black Widow Spider also available.
Gemstone hourglass



New Items Added Weekly

Jewelry for the Warrior in you.

Extraordinary art, jewelry and armour

Mythical, Medieval and custom made Warrior jewelry and armor

from your favorite TV shows and movies.

Statement making designs from days gone by.

With full fabricating, design, machining, and engraving

and jewelry making capabilities.

We work with all metals, gemstones and mediums.

We serve the motion picture and theater industry

with theatrical combat armor and jewelry.

We have worked with armourers on many full scale movie productions

to help supplying armor pieces, jewelry and weapons.

Send us a picture of the item you would like made.

We can supply one to one million.

Wholesale available on most items.

We make armour and jewelry from Mad Max, Beastmaster, Zena,

13 Warrior, Witchblade, Hercules and from any movie or show.

Just send us a picture or send a description and we price it for you.

We offer TV and movie theme jewelry and armour

Viking and Celtic jewelry - Armour displays

Gothic Jewelry - Gauntlets

Spiked Jewelry - Battle shields

Battle axes and daggers - Biker accessories

Witchblade jewelry - Mad Max armour

Warrior bracelets - Celtic cross pendants

"XXX" the bracelet - Rune jewelry - Viking Rings

Themes include Viking, Asatru, Pagan, Celtic, mythical, medieval, gothic, spiked, biker and warrior themes.

The artist Axel has been compared to Da Vinci.

His ability to create art of all types is remarkable.

From sketching, painting, sculpting, jewelry, armor making

engraving, repouse and designing exotic works.

A creative genius to say the least.

Every endeavor taken on by Axel is done with meticulous detail.

Works of art that will last an eternity.