Scorpion King Bracelet and Armor
From "The Mummy Returns"
We make the bracelet and armor "The Rock"
wears in "The Mummy Returns"
The Bracelet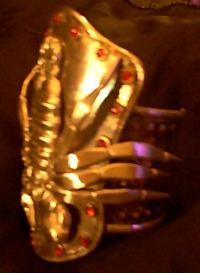 We can recreate this bracelet in any size you would like.
It measures 4 3/8 high, the scorpion is solid sterling silver. It also has 20 carnelian stones with garnet eyes.
The cuff is 2 inches wide.
Bracelet is $500 with stones. $400 without
The complete armor set including sword is also available. The Shield and Breast Plate are hand hammered from copper. The sword is made from tool steel. The price for the set is $2000.
Custom made to order, allow 4 weeks delivery.